| | |
| --- | --- |
| Making & Celebrating | |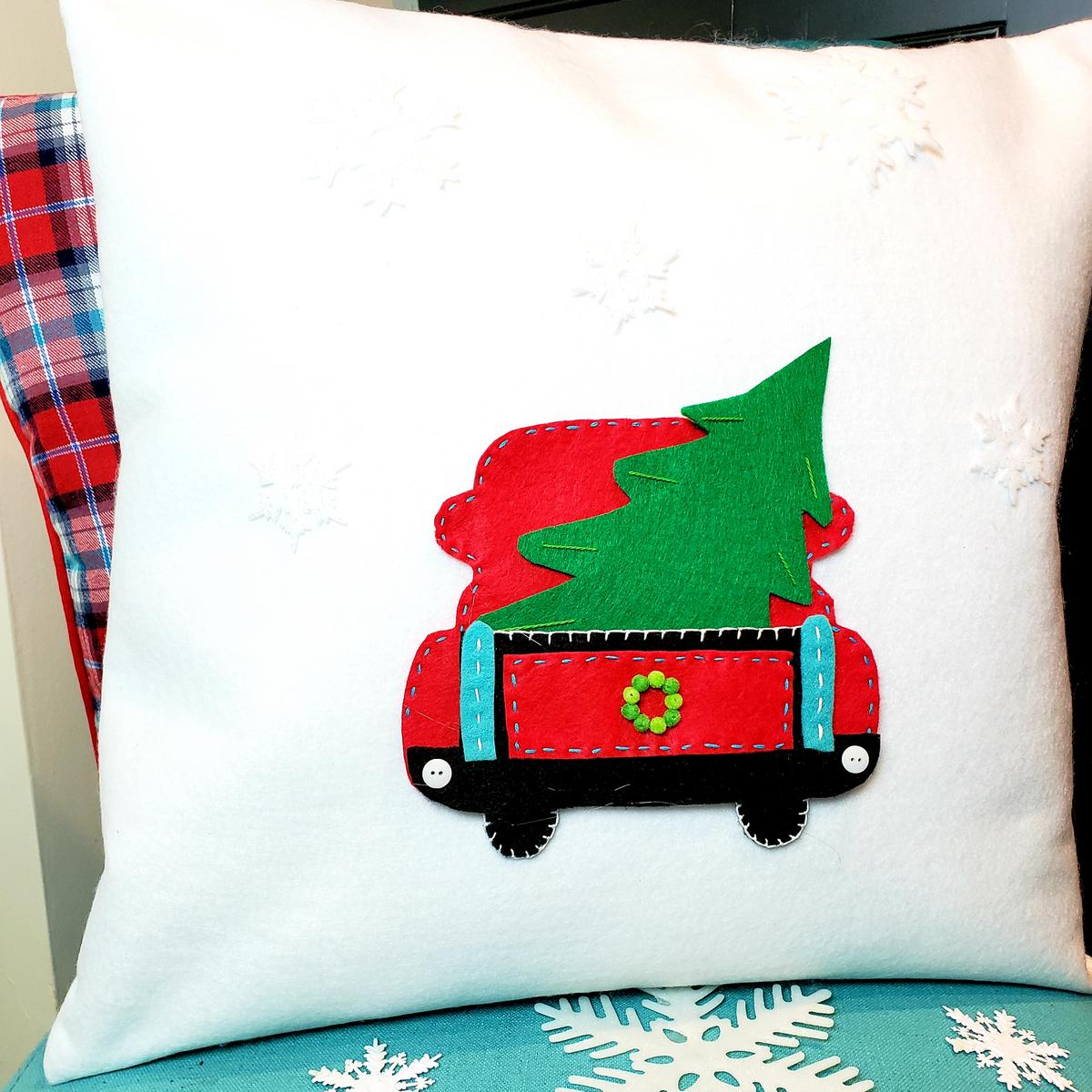 Who doesn't love a great pillow party! Especially one that involves talented bloggers and designers, great companies and an awesome giveaway plus the theme "Holidays!" What could be better! My favorite time of year. My pillow reminds me of my childhood going to pick out an tree and seeing all the pick up trucks carrying trees home for the holidays.
Thank you to hosts Laura Kelly Designs and Hedgehog Hollow and the sponsors, Fairfield World, Beacon Creates and Tonic Studios USA.
In deciding on the design for my pillow I was looking for holiday inspiration in one of my favourite magazines, Better Homes and Gardens Holiday Crafts issue. (I have been fortunate to have some of my designs featured in the past.) It is such a festive issue and upon opening the magazine on the "from the Editor" page was a wood antique truck with string art tree designed by Dominique Russell. The truck reminded me of my childhood. I translated the pattern into felt and created a cozy pillow. This issue is available right now!
I traced the pattern, cutting out all of the individual pieces.
You will need:
Fairfield 20" square Pillowform
2/3 yard Kunin Premium Felt
9" x 12" craft cuts Kunin Premium Felt: 1 Red, Apple or Pirate Green, Black, Lagoon
Embroidery Floss in White, Red, Teal and Green
(Optional Die cut Snowflakes)
Scissors, measuring ruler, embroidery needle, sewing machine and matching thread (optional, can also be glued with Fabri-tac), paper and pencil.
STEP ONE: Cut out pattern from magazine or use similar pattern of choice. Cut out pieces from felt and layer in position. Take a photo to refer to. Cut a 21" by 44" of white for the easy envelope pillow. Simply fold felt strip overlapping the extra 4" in the center of one side. Sew down each edge and turn pillow. Smooth and flatten.
STEP TWO: Embellish applique pieces with embroidery stitches. I used a straight stitch on the truck and tree. Layer the tree on the truck and glue with Fabri-tac.
STEP THREE: Blanket stitch around wheels. Add to bottom of truck by 1/2". Glue in place. Add and glue bumper over wheels.
STEP FOUR: Blanket stitch top of truck back and straight stitch remaining pieces. Glue in place. Glue completed applique to front of pillow. Add die cut snowflakes or Holiday message. Insert pillow form.
Thank you to Fairfield World for providing the pillow forms, they are so soft and make a cozy pillow! They support "Stuffed Love" and feature Crafters who create for a cause on their website.
Enjoy the pillow party and check out all of the fabulous Holiday pillows here! Enter to win a $100 Gift Card from Michaels and 10 lbs. of polyester stuffing from Fairfield World on my Home Page. Watch for the hashtag #FFWPillowParty2019.

Posted by
Ann Strecko Koeman
on
11/04/2019 - 11:46 AM
A beautiful interpretation of your inspiration looks excellent. TFS.
Posted by
Debra
on
11/04/2019 - 12:48 PM
Thanks so much Ann!
Posted by
diana
on
11/05/2019 - 06:13 AM
so love your pillow project! i love when pieces are created with memories from ago... beautifully festive
Posted by
Debra
on
11/05/2019 - 08:15 AM
Thank you Diana!